5 Days Kilimanjaro Climb Marangu Route.
Mount Kilimanjaro climb through 5-Days Kilimanjaro climbing Marangu route is the most chosen trail as it serves the Budget cost through spending fewer days being on the summit of the Mountain. It is only 4 nights sleeping in huts plus 2 nights before and after climb make the total of 7 days tour. 5-days Kilimanjaro Marangu route Tours provide an easy attempt to the summit and success to many trekkers due to the additional day for acclimatization with altitude.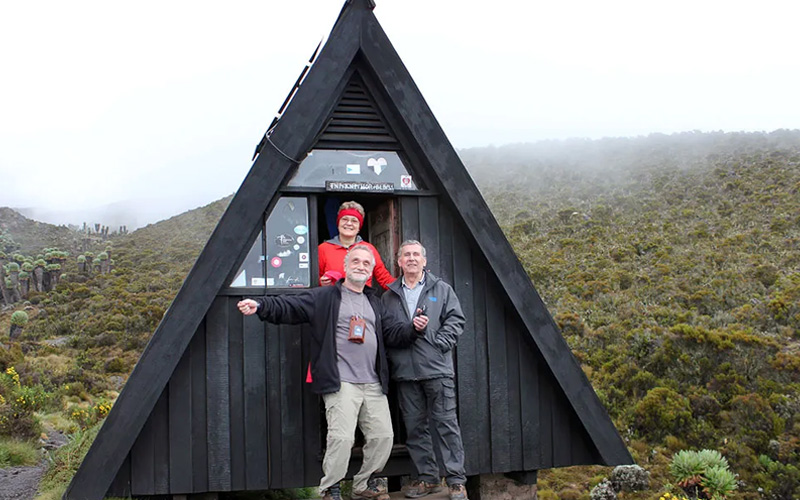 LUSHOTO TREKKING TOUR.
The LUSHOTO known as Wilhelm Stahl during the German colonial rule is one of the eight District of the Tanga Region in Tanzania. It's bordered to the northeast by Kenya, to the east by the Muheza District, and to the Northwest by Kilimanjaro Region.
Day 1 to 3
Activities while you're in Lushoto.
1: IRENTE VIEWPOINT.
Today you will hike to this outlook with spectacular views of the village of Mazinde and the Maasai plain almost 1000 meters below.
2: MAGAMBA RAINFOREST.
Walk through the villages and farmland to the lush Rainforest, you can see black and white colobus monkeys and a German bunker dug during World War 1.
3: SKYLINE:
The footprint of the man, Visit a famous cable system for transporting logs down the Mountain and learn about the people of the USA Usambara Mountains.
4: USAMBARA FARM.:
This Walk will take you to through the fertile farmland of jaegers-ta (Hunters Valley) to a fruit tree where you can learn about different varieties of fruit trees and their propagation.
5: GROWING ROCK.
The Peaks (God's peak) is famous for its multi-colored, butterfly, and spectacular of the views of Lushoto and Handeni plains. Stop at the Soni waterfalls on the way back to Lushoto.
6: SAKHARANI WINE TOUR.
Depart from Soni Walk through the coffee plantation on the way to sakarani where the Usambara wine is processed, and later visits also waterfalls and local market offering fresh fruits.
Day 4 : Depart Lushoto and drive to Mkomanzi national parks is best place to spot Rhino, wild dogs and many more wildlife. The local lunch will be on the way, overnight and dinner at lodge.
Day 5: full day game drive at Mkomanzi National parks.
Day 6: Drive to Arusha after hot luch at the lodge. Overnight and Dinner at the lodge in Arusha.
Day 7: Depart after breakfast and drive to Tarangire national park the home of Elephants for game drive. Until later drive to Karatu the near town to go in ngorongoro crater, Overnight and dinner at the lodge.
Day 8: Drive early the morning after breakfast heading to ngorongoro crater for game drive, lunch inside the Crater floor: and later drive back to Arusha for Dinner and Overnight.
The End of Service.
2 Nights' accommodation in Arusha 
Private professional mountain guides
All Park fees
Rescue fees
All meals while on the Mountain
Arrival and Departure transfers
Government taxes, VAT, and all relating service
charges
Guides, Porters, cook salaries, and park fees
Sleeping tent
Mess tent
Table and chairs
Tanzania Visa: $50 per person on arrival
Personal Expenses (e.g. laundry, telephone, beverages, etc.)
Meals not listed above
Optional Tours (short safari after your climb etc)
Tips and any items of personal nature
Summit Oxygen
Walking Poles
Sleeping form mattress