3 Day Luxury safari Nyerere park
Safari Overview.
This 3 Day Luxury safari you will fly from Zanzibar to Nyerere National Park. You will Experience the ultimate 3-day luxury safari in Nyerere Park, where adventure and opulence come together. Immerse yourself in the untamed beauty of Tanzania's wilderness as you embark on thrilling game drives and witness majestic wildlife in their natural habitat. Indulge in exquisite accommodations and enjoy exceptional service as you relax in lavish camps nestled amidst the picturesque landscapes. This extraordinary Luxury safari getaway will leave you with unforgettable memories and a deep appreciation for the wonders of nature.
Just Click Below Day-by-Day for More information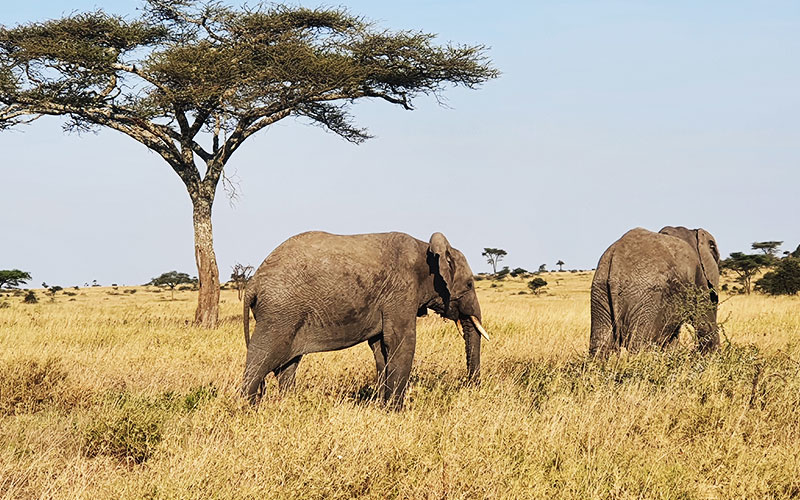 In the morning, our driver will pick you up from your hotel to fly to Nyerere National Park. After landing at the Mtemere Airstrip at 07:00am our driver will take you for a bushman walking experience outside the park. After the bushman walking experience, you will enjoy the brunch breakfast. Then, you have time to rest until an afternoon village tour at Mloka (a village near Nyerere National Park). Then go for a boat safari on the Rufiji River to view crocodiles, hippos, birds, and other attractions. After the boat safari, we will take you for lunch and prepare for the 03:00pm game drive in Nyerere National Park. Finally, you will enjoy dinner and overnight at the Camp in Selous.
After breakfast, you embark on a full-day game drive until the evening. You are starting at the Selous Camp, where our professional driver and guides will pick you up. Today, you will see various animals, including elephant, zebra, giraffe, and antelope. You will also see birds, landscapes, and varied topography, including wetlands, dry grasslands, light acacia forests, and higher ground with vast views of far-off mountains. You will get a chance to visit a hot spring and even go swimming, but it depends on the accessibility of the road to the location since there will be mud on the road during the rainy season. After enjoy a packed lunch and some time to rest in the afternoon, then continue with the game drive. In the evening, you will return to the Camp for dinner, sleep, and prepare for the following day.
After breakfast, you will embark on a game drive in Nyerere National Park. You will get a packed lunch and some time to rest in the afternoon before continuing with the game drive until 03:00pm. Then, finally, you will be transferred to the Mtemere Airstrip for your flight back to Zanzibar. Upon arrival in Zanzibar, you will be taken to your hotel by our driver.
This marks the END of our safari
Park fees
All activities
All accommodation
A professional driver/guide
All transportation
All flights during the tour
All Taxes/VAT
Roundtrip airport transfer
Meals
Drinking Mineral water.
Tanzania Visa:
Personal Expenses (e.g. laundry, telephone, beverages, etc.)
Optional Tours 
Tips and gratuities to your safari guide 
Flight fare
Beverage